Digital Content Marketing Intern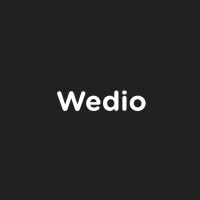 Wedio
Marketing & Communications
Location unavailable
Posted on Thursday, January 27, 2022
Are you passionate about working with digital communication? Are you a rising star as content writer, and do you want to be a part of a Nordic Startup journey within the international Media industry? Then it's you we're looking for right now!
---
We are looking for an intern who has a desire to help create and execute Wedio's communication strategy. We don't expect you to be an expert before you start — but if you have a drive and the needed English written skills, we promise you to become excellent at digital content marketing after this internship. Besides, you are driven by responsibility and find it interesting to work in a young and dynamic environment where there is a short road from idea to action.
Your role
You will become part of the marketing department where you will be involved in Wedio's marketing and communication strategy. Your tasks are within;
data-driven content marketing strategy and execution (Writing marketing communication materials such as Blog Posts, Facebook Ads, UX Writing & more.)
other relevant disciplines (E-mail marketing, SEO, PR, Social Media Marketing, and Google Ads).
About you
You study communications, marketing, journalism, or a-like.
You write fluent English, and you love to play with words.
Preferably, you are interested in cinematography or photography and know brands like RED, ARRI, and Blackmagic.
Preferably, you are already familiar with writing towards the search engine (Google).
You are eager to learn more about the digital world from some of the best within the industry.
Skills you can expect to achieve
Make data-based decisions on what content needs to be created.
Write data-based content, which both meets the intention of the reader but also are compliant with Google and the Search engines.
Showcase how data-based content can deliver increased revenue for a company.
Kick-start a career within Content Marketing in 2023.
About Wedio
Wedio is the fastest-growing European camera-sharing community for Filmmakers and Photographers. We make it up to 40% more affordable to rent video equipment on a daily, weekly, and monthly basis — with global coverage.
We help more than 9,000 filmmakers become better creators — together. Our eco-system involves Gear sharing, Gear subscription, and Courses, and we currently experience extensive growth.
Our mission is to keep great stories alive. We achieve this by facilitating the sharing of knowledge, tools, and services that help you as a creator craft better stories. Because we believe that visual content plays a crucial role in the future of communication, our offerings are tailor-made to support visual creativity. Our vision is to become the #1 community for ambitious creators.
Practical stuff
The internship will be at least five months during Spring 2023, and it will be unpaid. If you find the internship interesting, send us your application.
For more information or questions please contact Sarah at daniel.sand@wedio.com or phone number +4530864714
Popular listings for rentals